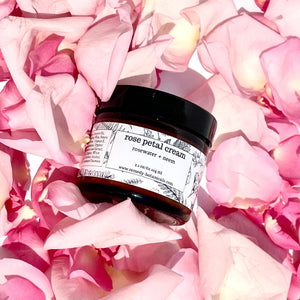 Embrace the rich and summery scent of rose with this ultra-hydrating face and body cream that is a wonderful day or night cream.  Featuring rose water, jojoba seed oil and coconut oil, sunflower seed oil and neem seed oil.  A refreshing drink of water for your face. Petal soft skin awaits you.
 +Rose Flower Water 
+Organic Jojoba Seed Oil and Organic Coconut Oil
+Extracts including Organic White Willow Bark and Organic Rosemary Leaf Extracts.
+Sunflower Seed Oil and Organic Neem Seed Oil 
+Vitamin E
This cream is thick and although we use small amounts in the day, its hydrating, thicker texture makes it an ideal night cream.
Rose Flower Water, Organic Coconut Oil, Organic Jojoba Seed Oil, Emulsifying Wax, Stearic Acid, Glycerin, Witch Hazel Water, Vitamin E, Sunflower Seed Oil, Phenoxyethanol, Organic Neem Seed Oil, Organic Rosemary Leaf Extract, Organic Sunflower Seed Oil, Organic White Willow Bark Extract, Organic Alcohol, Alcohol, Xanthan Gum, Tetrasodium Glutamate Diacetate