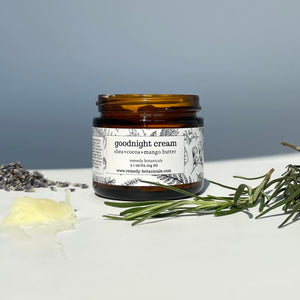 Remedy Botanicals Goodnight Cream is formulated with vitamin-rich mango seed butter and sumptuous shea butter, organic rosemary, and organic neem seed oil, and soothing white willow bark. This cream melts into your skin to bring the look and feel of total hydration and intense nourishment.
Product Highlights:
Helps your skin rehydrate and refresh as you sleep with vitamin-rich Mango Butter, Shea Butter, and Neem Oil
Gorgeously scented with a blend of calming floral essential oils, including Jasmine, Rose, Neroli, Ylang Ylang, Clary Sage, and more
Melts into the skin, instantly soothing with White Willow Bark Extract
Packed with skin-loving oils, butters, and extracts but without a greasy feel
Superstar Ingredients:
Organic Aloe
Organic Shea Butter
Organic Cocoa Butter
Rose Water & Lavender Water
Mango Butter
Lavender, Sweet Orange, Geranium, Clary Sage, Ylang Ylang, and Neroli Essential Oils
Rose Absolute, Jasmine Absolute
This cream is lightly scented with the Essential Oils of - Clary Sage, Jasmine, Bulgarian Rose, Ylang Ylang II, Neroli, Geranium, and Lavender. All perfect for helping us stay balanced and wake up refreshed and naturally beautiful!   This product is vegan.
Organic Aloe Juice, Organic Shea Butter, Emulsifying Wax, Glycerin, Witch Hazel Water, Organic Cocoa Butter, Stearic Acid, Clary Sage Essential Oil, Organic Ylang Ylang Essential Oil, Neroli Essential Oil, Geranium Essential Oil, Lavender Essential Oil, Jasmine Absolute, Rose Absolute, Vitamin E, Rose Water, Lavender Water,  Mango Butter, Organic Alcohol Extract of White Willow Bark, Organic Rosemary Leaf Extract, Organic Sunflower Seed Oil, Organic Neem Oil, Sweet Orange Essential Oil, Xanthan Gum, Tetrasodium Glutamate Diacetate, Phenoxyethanol  
This cream is amazing!
Exactly what I needed! This is a decently heavy cream that is not sticky or greasy. I use is all the time, not just at night. My skin looks plump and juicy.