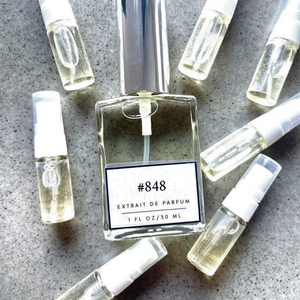 Dupe of Margiela's Lazy Sunday Morning
LAZY SUNDAY MORNING is a classic floral scent inspired by memories of waking up wrapped in fresh cotton sheets while the sun's morning rays warm your skin. A delicate blend of lily of the valley, iris accord, and white musks evoke feelings of purity, freshness, and lightness. Retails for $160. at Sephora.
I offer a sample of this extrait de parfum for $5.00 (samples ship free) all sales are final, so please do sample when in doubt.
simply magical!
this formula smells just like the original, but lasts so much longer! i actually prefer this one over the original because of the added richness of the scent from the oil base. i will definitely be coming back for more. it even came with some cute free samples - now i'm hooked on china musk as well! thank you for creating these affordable and long-lasting dupes!! 💖
Best dupe ever!
I was thrilled to see this shop had a few Margiela's Replica dupes. Last year I had tried a sample set of the actual MMMargiela perfumes. I enjoyed every single one scent wise, but they caused an ugly burning in the back of my throat. I simply couldn't tolerate any of them. I am not sensitive to scents either. I had to return them and gave up on the thought of ever being able to wear any of them. Until now. Lazy Sunday Morning was the first one I tried and was so impressed. It smells exactly like the original! I have been able to wear it with no compromise. It's a strong scent and this sample should last quite a few uses. The scent itself is very clean and floral. There is an Egyptian musk similar to that of the Narciso Rodriguez for her perfumes. Lily of the valley and Iris give a gentle feminine floral breeze. I love this! Now if there was also: Beach Walk, Bubble Bath, Sailing Day….oh there are so many more lovely scents by MMM that I hope come to this shop. I am so happy to be able to wear them now! Thank you for offering these amazing dupes ❤️
Lovely
I'm very impressed with this!
It's such a good match to the original, with the added depth only oils can provide.
Great longevity, bravo.