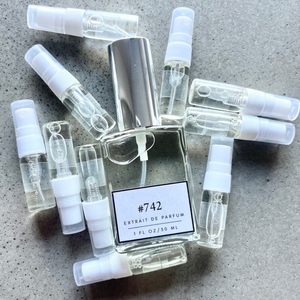 TOM FORD reinvents classic tobacco with creamy tonka bean, vanilla, cocoa, dry fruit accords, and sweet wood sap for a modern, opulent, and heady impression of confidence and power. It's an unforgettable blend of sophistication and warmth, blending timeless elements with a modern twist. Every time you wear it, you'll experience a unique and luxurious experience.
Retails for $180.00.
I offer a sample of this extrait de parfum for $5.00 (samples ship free) all sales are final, so please do sample when in doubt.
Heavy lingering notes
Rich, warm, soft notes that last. My daughter quickly commented on how she could smell the heady vanilla a few feet away. There are moments where it brings me back to being in my Papap's smoking chair. A lovely vanilla.
Interesting in a beautiful way!
This is so nice. It's not actually heady on me, but it's so intriguing. I can smell a little tobacco, a little something warm and sweet, a little something lightly cool and green, even. Every time I sniff I get something else. I love skin scents and this is so good. (I've only smelled the original on paper and found it to be really heady. This is way more my style.)