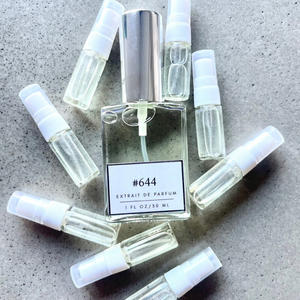 Dupe of Gucci Bloom
Formula #644 is a white floral fragrance which accurately evokes the sensation of blossoms blooming. Its top notes, which include tuberose, jasmine and rangoon creeper (a kind of Chinese honeysuckle), come together to create a composition with both vintage and modern influences.
Retails for $205.00
I offer a sample of this extrait de parfum for $5.00 (samples ship free) all sales are final, so please do sample when in doubt.
Beautiful white floral!
I love this dupe of Gucci Bloom, it's perfect for a date night, very romantic, with big white floral notes, very soft and green/powdery. It had great staying power, one spritz lasted over 10 hours. I did a side by side spritz and couldn't tell the difference, especially at the great price point.
Beautiful dupe!
I was so excited when Lynn started offering these dupes. I love my expensive designer perfume, but, there's no way I'm lugging a $200 bottle of Gucci in my purse! This smells SO much like the original. I absolutely love it! I will definitely be getting larger sizes in the near future.