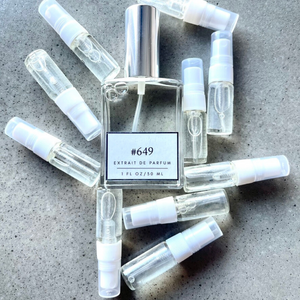 Dupe of Maison Francis Kurkdjian Baccarat Rouge 540
Breezy jasmine facets, radiant saffron boost the ambergris mineral notes and the woody tones of freshly-cut cedar. Bright and sleek, Baccarat Rouge 540 eau de parfum caresses the skin like an amber and woody floral whisper.
Retails for $260 at Neiman Marcus.
I offer a sample of this extrait de parfum for $5.00 (samples ship free) all sales are final, so please do sample when in doubt.
Love love love
Full disclosure - I have no idea what the original smells like. But this scent is delicious. It's sweet, a little woodsy…there's a few things going on and it absolutely works imo.